What's Lovely for Saturday, April 17, 2010
: Sitting at the dinner table,
just talking with Mom
. She's good to rant to, though she might not understand me 100% of the time (urrrrrghrewr).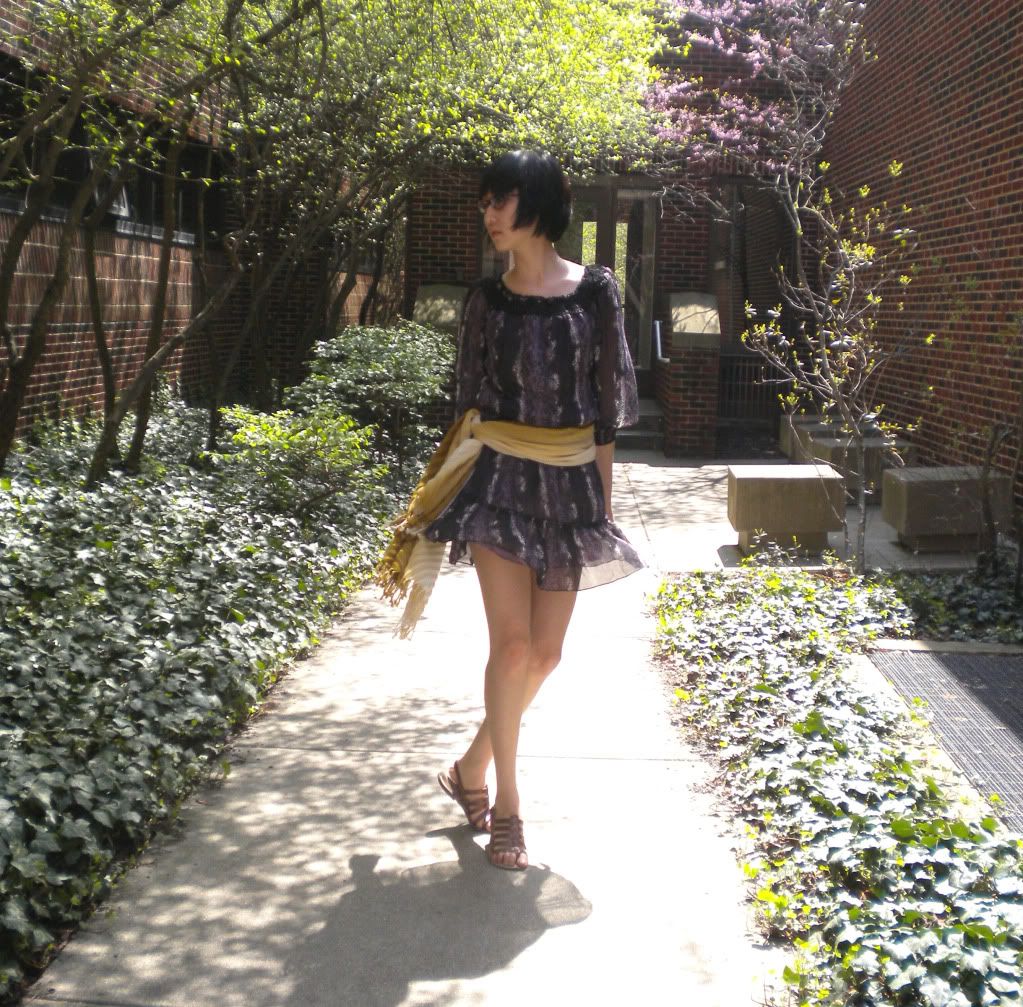 Hey look, legit outfit posts! Hallelujah! Especially for my friend who's letting me borrow her camera in the meantime. These were taken from last week when my life was nonexistent.
It was abnormally summer-weather that week, which I took advantage of with this newly thrifted dress from Goodwill (danke, Mom!).

Dress- xhileration via Target from Goodwill : Scarf- H&M : Sandals- TJMaxx

What's Lovely for Sunday, April 18, 2010
: Re-remembering why I
fell in love with Franz Ferdinand
.
Ohhh Alex Kapranos. If I could marry both you and your voice in a happy polygamous relationship, I would,

I would

.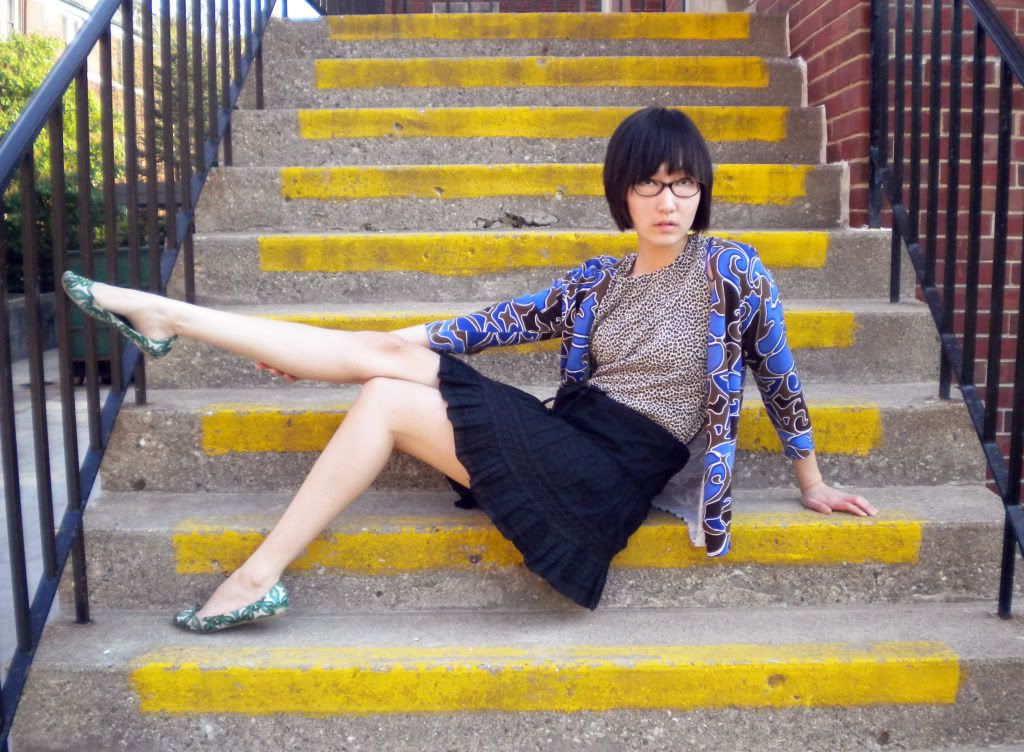 Recognize that skirt? It's the underskirt I've constantly worn under my skirts all throughout the winter-- now it's its time to shine!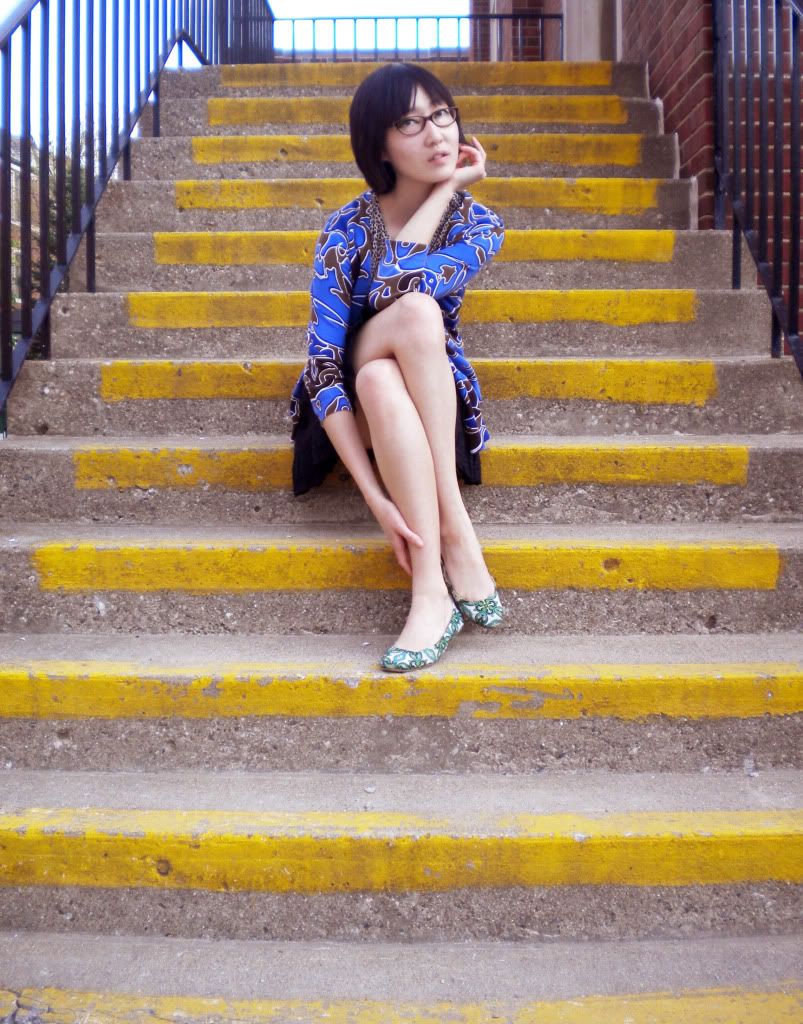 This is sort of an explosion of different patterns-- just my humble take on

Glamourai's mixology

.

Shirt- secondhand : Cardigan- TJMaxx : Skirt- Aeropostale : Flats- Old Navy

And drrrrrrrrrrrrrum roll: I've received a wonderful little award from
Anna
(
aka Satinsugar
) last week, and I'm finally getting around to it now. Whew.
Ze rules:

a.
mention the giver's name

b.
fill out the following questions

c.
name five bloggers in which you want to pass the award onto.
quirk:
I know all the words to
Beauty and the Beast's

"Belle"
down to a tee... even the talking parts. My friends are mildly annoyed and/or weirded out when I do this when we watch that movie.
pet peeve:
When people say "that's so gay" without thinking.
favorite song:
I don't have a definite, constant favorite, but I can never turn down listening to
"Daylight" by Matt and Kim
.
trend:
Harem pants, mixing loud prints, 60s-inspired mod and always, always... stripes.
murder:
Not that I want to commit murder anytime soon... but I'm definitely not a fan of sweatpants with words on the bum, Crocs or those clogs (not on me, anyway).
nail color:
White! (another fun fact: I used to pronounce "white" with the "h," ahaaaawoops)
And now to pass on the love! But if you want to do the award too (I can't blame you, it's fun to do!), please go right ahead and do it. :)
Kate Maggie
of
postcards from...
She's the eternal optimist who never sounds contrived. Her outfits are as sweet as her writings; she's a girl who I'd like to have a coffee with someday. (not that I generally drink coffee, but it's the thought that counts)
Krissy
of
Shimmer Like Gold
: It's like she has this treasure horde chock full of beautiful images and wonderful bits and bobs. I always get excited when I see her new additions of "Head over Heels in Love with..." posts.
Jessica
of
Wardrobes and Whimsy
: I can't help but love her cropped 'do (short haired girls, unite!) and her ensembles that are never cluttered and always stylish.
Ali
of
The Drawing Mannequin
: Dang this girl is adorable. She's very chic and always has a lovely color theme in her outfits. I also am tickled how she names her things, names like Jean Bob.
Lucy
of
Lucy Marmalade
: I seem to particularly love fashionable girls with funny blogs. Or funny girls with fashionable blogs? Either way, Lucy checks both of these categories. With her enviably fiery hair, her style is equally as colorful as her awesome personality. Plus, we're in an "exclusive" gang called "Well This is Embarrassing." So rad.
So long, farewell, auf Wiedersehen goodnight. Adieu, adieu, to you and you and you.