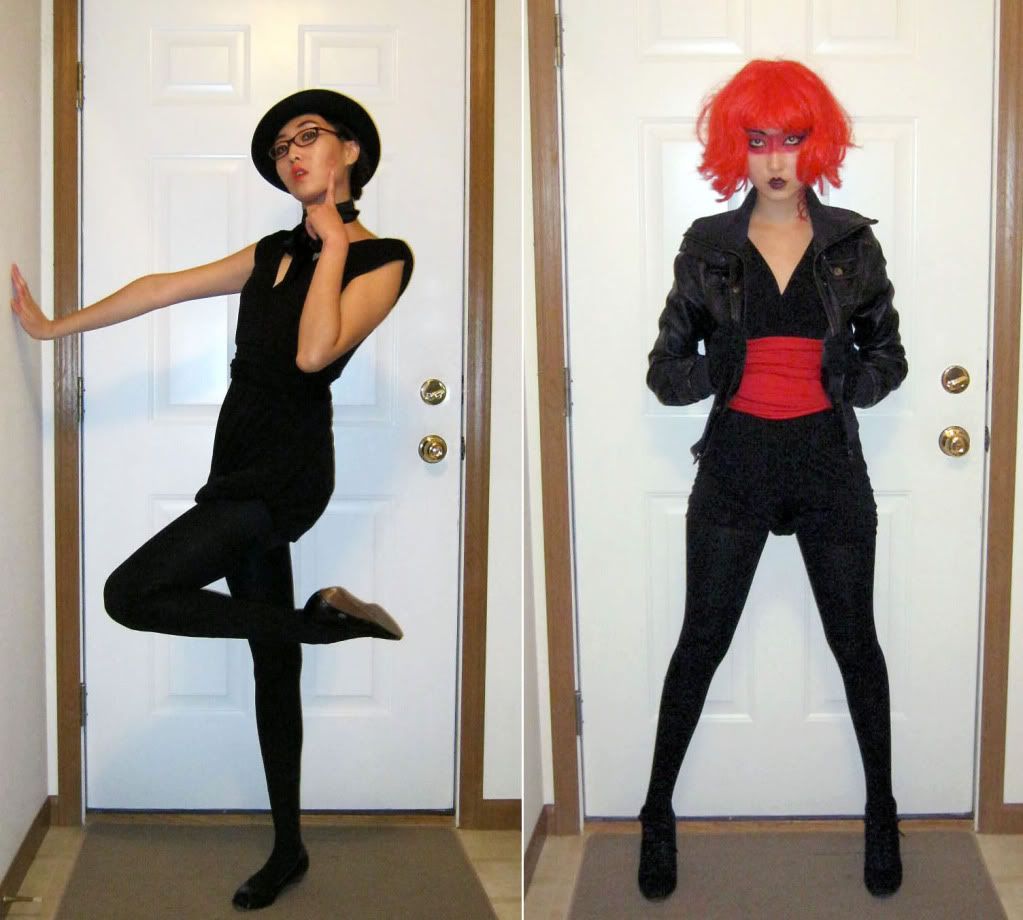 Two costumes, one dress. Secretly, I was really a person who remixes her clothes for Halloween, but that would've been much harder to explain.
Aaaaand it's the Halloween episode! I mean, post, it's the Halloween post, several days late.
Blame it on the barrage of exams and projects, since there wasn't any a-a-a-a-alcohol to be had (disclaimer: that was a reference to
a bad song
, I've yet to be a raging alcoholic).
Anyway, onto the fun costumes. Meet my alter egos:
Lini P. Vixenberger
.
Channeling Liza Minelli from Cabaret who was channeling Charlie Chaplin. She dislikes pecans and likes cocktails with suggestive names. She's a sweetheart.
One doesn't receive a kiss and tell *exaggerated wink*
The Crimson Shadow
. Identity unknown. Powers unknown. Honestly, not much is known about her, except that she's definitely not a sweetheart.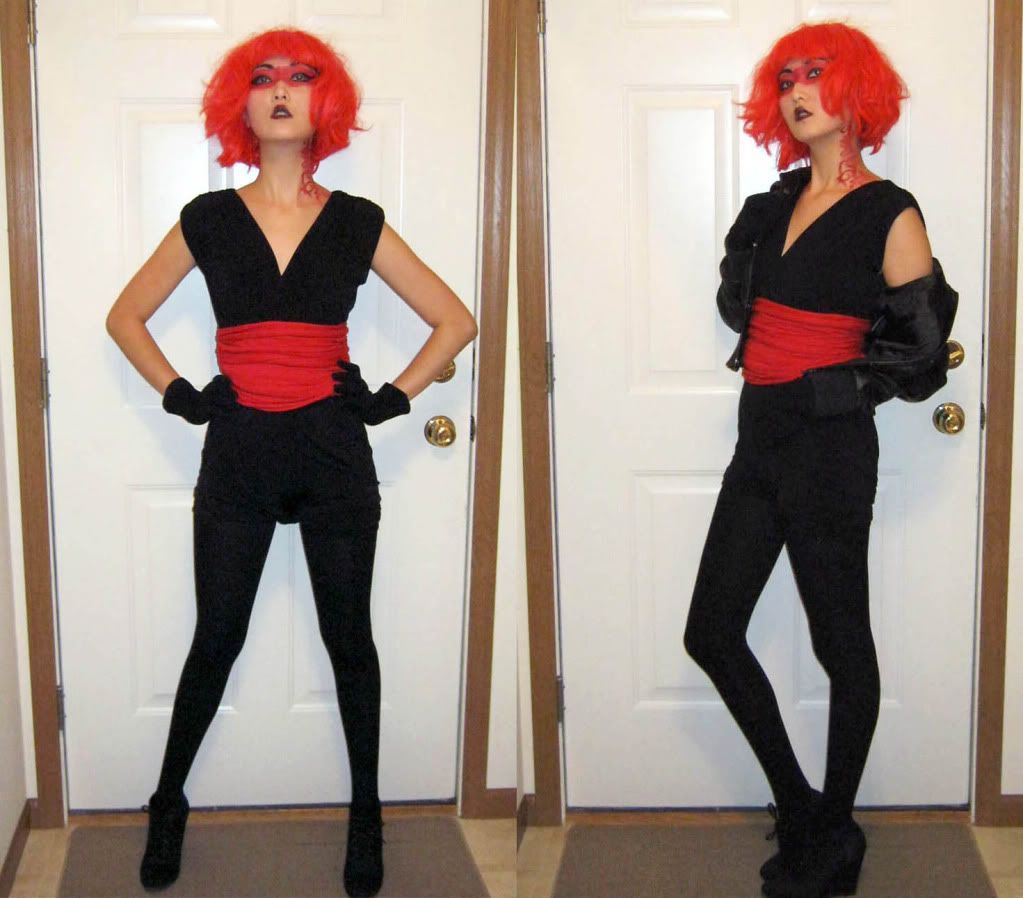 In which I try to look like a total badass super villainess, but when I look at these photos, I realize that it can never be because a) I couldn't run in high heels/wedges and b) I don't have the impossibly large bust/tiny waist body ratio of a typical comic book female.
Friday was when I became a slut. By Rocky Horror Picture Show standards, that is.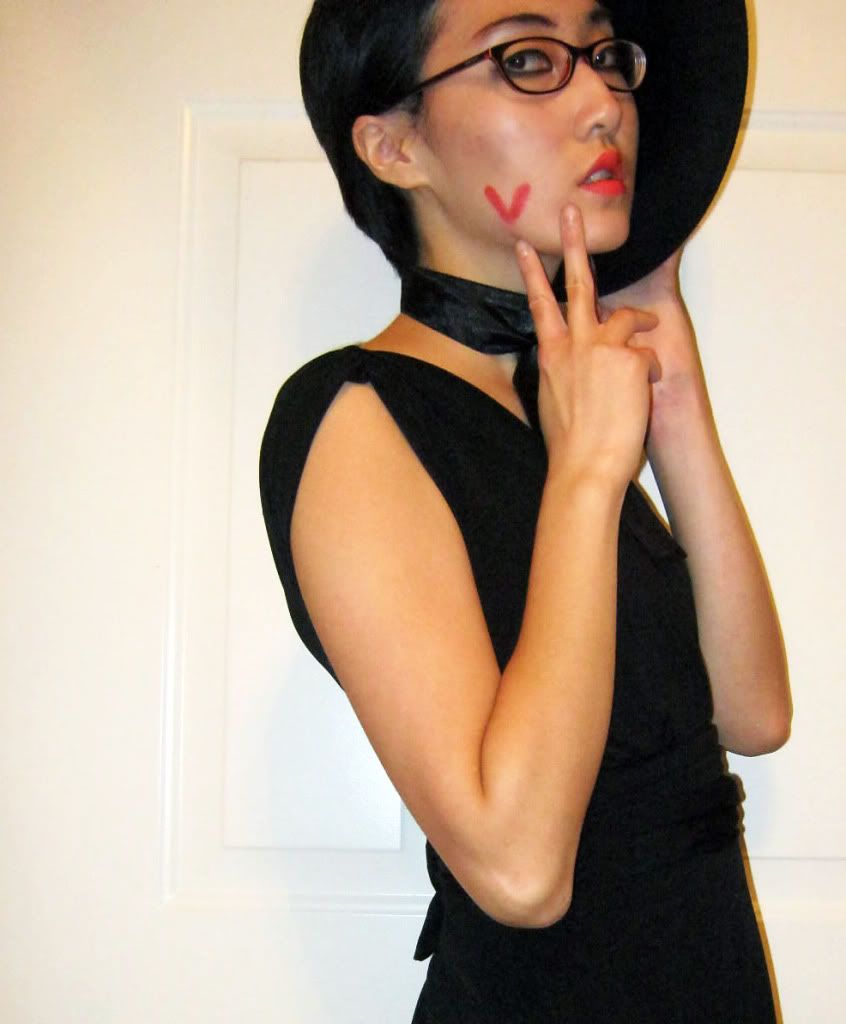 V for virgin, baby.

Dress- Goodwill :: Ribbon- magic? :: Bowler- Target :: Tights- We Love Colors :: Shoes- Old Navy
Though I was too late to partake in the wonderfully humiliating opening ceremonies, I still got to do the whole schpiel-- throwing toast, spraying with water guns, yelling "asshole!"-- to name a few. It was a fun night of debauchery and 3 a.m. Chinese food.
Let's do the Time Warp superfast again and again and again and again
I'm glad that since Halloween fell on a Sunday, that left us the excuse to spend the whole weekend as Halloweentime. I definitely wasn't complaining. My only regret? Not dressing up for class on the Friday before. I saw a guy (at least, I assume it was a guy) dressed up as
Gumby
(I almost thought the character's name was Gumbo, then realized that was the name of a traditionally Southern dish and wouldn't make a very recognizable costume). He just politely barged into one of my large lecture classes-- and this is what I love about Halloween the most. The costumes and playing an elaborate game of dress-up! I'm not much one for massive amounts of candy, nor am I a particular fan of the general rule "
Halloween is the one night a year when girls can dress like a total slut and no other girls can say anything about it." I'm all for dressing sexy, but not slutty. Slutty equals remarkably uninspired costumes like Sexy Finding Nemo, Sexy Wookie... must I go on?
Needless to say, I was pretty psyched about pretending to be a super villain. Though it came with its liabilities (see below).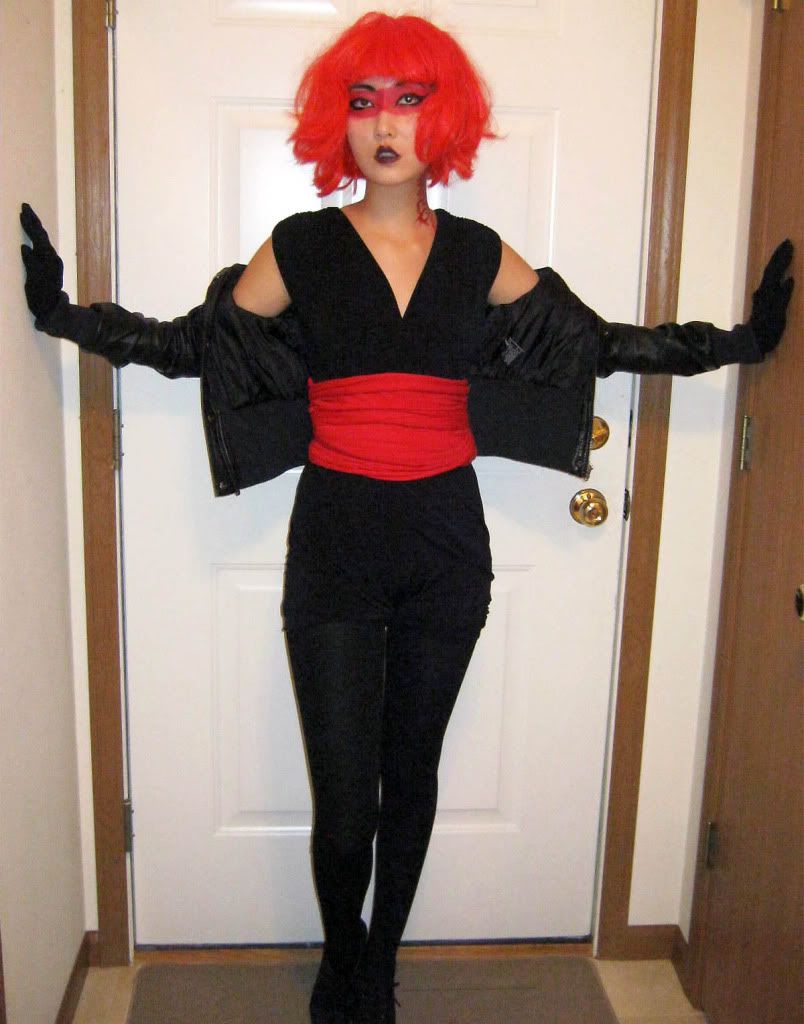 The Crimson Shadow hasn't done any major bad work yet. Most of what she's done is take pictures of herself in her home, so yeah.

Dress- Goodwill :: Tights- We Love Colors :: Scarf- American Apparel :: Shoes- Kelsi Dagger via TJMaxx :: Jacket- Joujou via TJMaxx :: Gloves- borrowed :: Wig & makeup- Walmart
The Two Times When I Was Killed In One Night Because That's the Kinda Stuff You Gotta Look Out for When You're a Super Villain: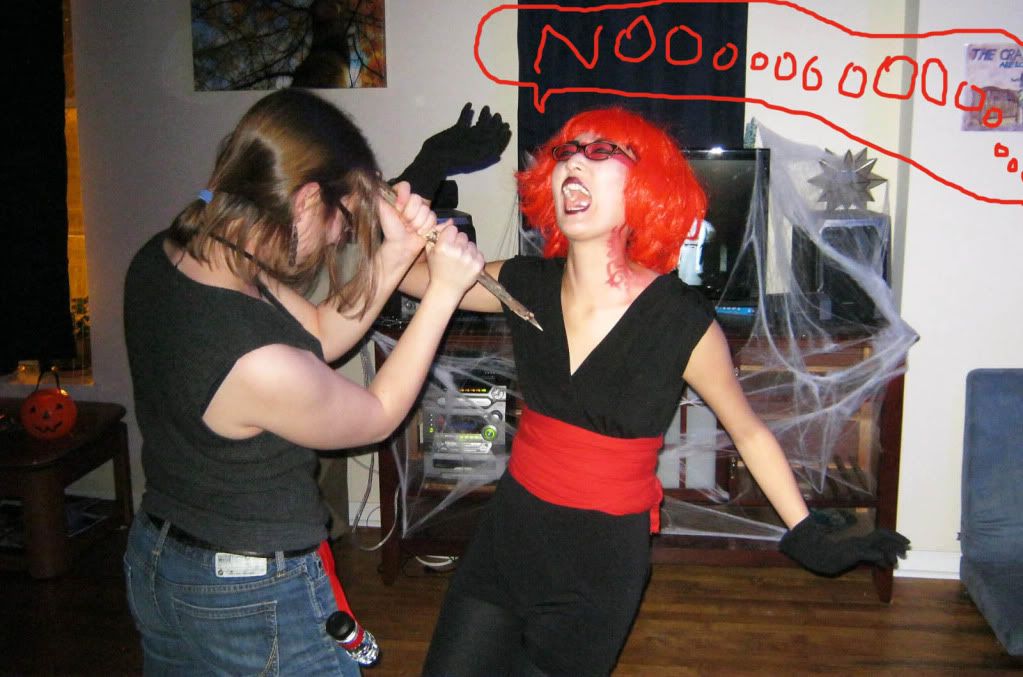 1. I was stabbed by a vampire slayer, even though I wasn't even a vampire. If you're going to slay your Draculas and Edwards, that's your thing, but keep me out of it, Buffy.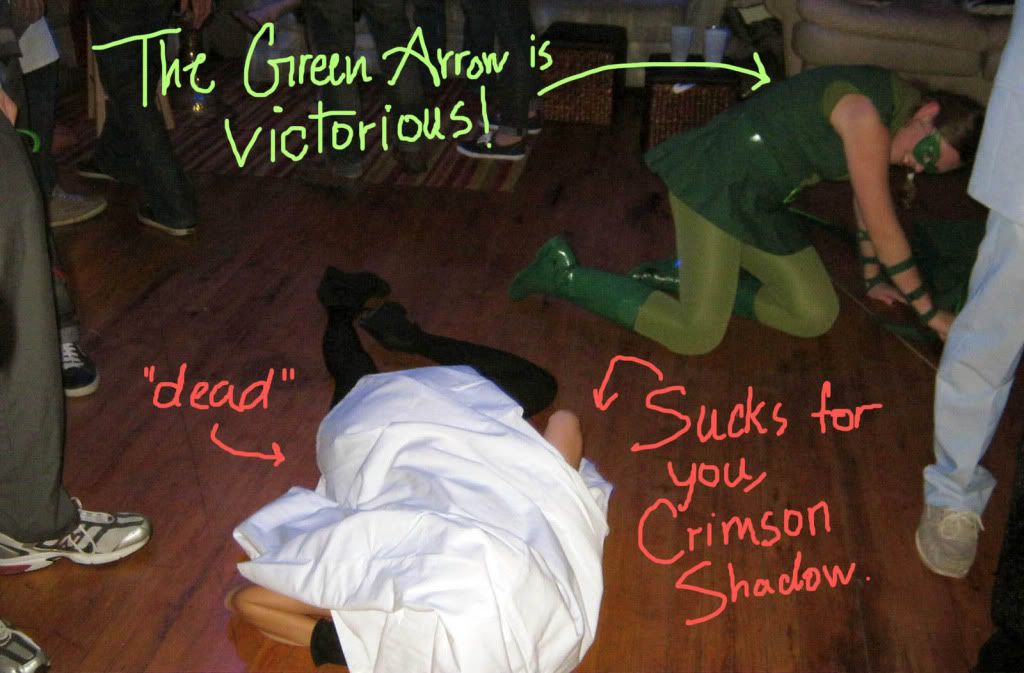 2. Later, I was locked in an epic battle (that was witnessed by a staggering amount of five people) with the Green Arrow (in this case, a female) when it seemed I was the clear winner. Then she had to turn around and freakin' stab me with her arrow. Seriously, what's up with the stabbings? Give a super villain a break, geez.
All in a night's work of your run of the mill super-badass. It's nice to come home to your lair and just relax with a nice bottle of wine and evil plottings, or whatever villains do in their downtime.


Good thing NO ONE will find out my secret identity now.
So I had a pretty good Halloween. What about you? Tell me what your plans and misdeeds were!