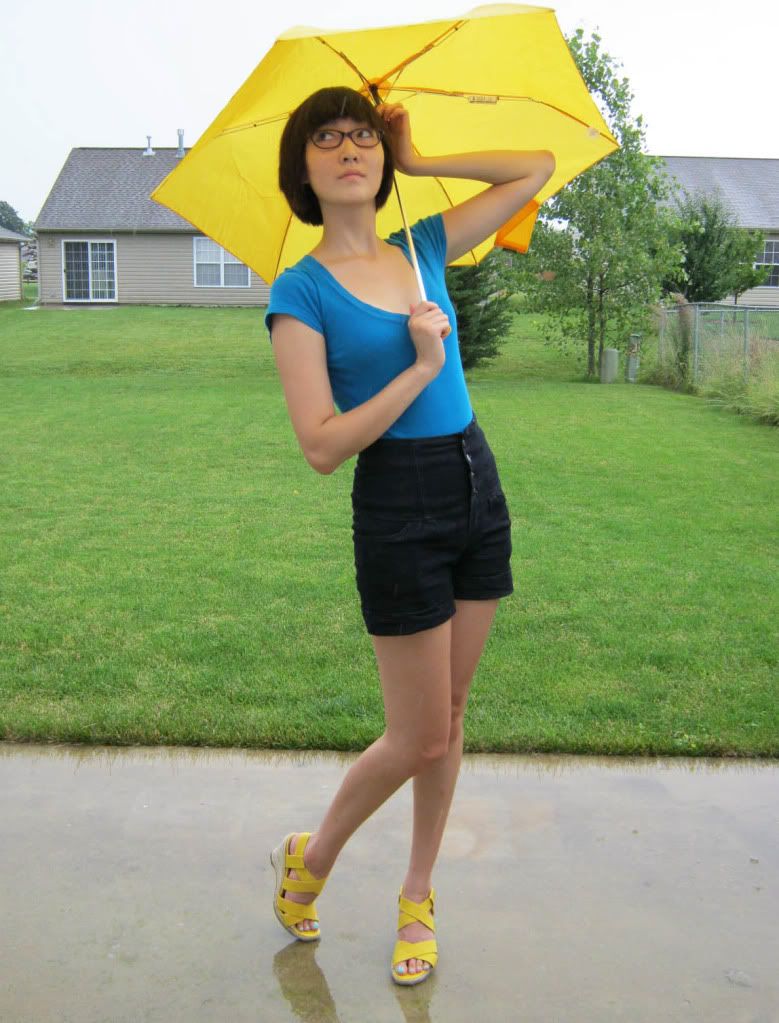 What's Lovely for Friday, June 11, 2010
: Bright yellow + Interview + "PARKOUR" =
a good day
Say hello to the latest addition to the slowly-yet-steadily growing Charmalade choe (pronounced "
shoe
") family. Mom was a fierce opponent to these babies, but I was aching for a dash of bright yellow for the longest time. And these fun, summery (not to mention fairly comfortable) wedges were the answer. As it turned out, it started to rain on me right when I arrived home, and I saw how perfect the two sunny shades (oxymoron?) went together. So I made lemonade out of lemons ("
balls, whyyyy is it raining nowwww?! grumblegrumble
"), so to speak.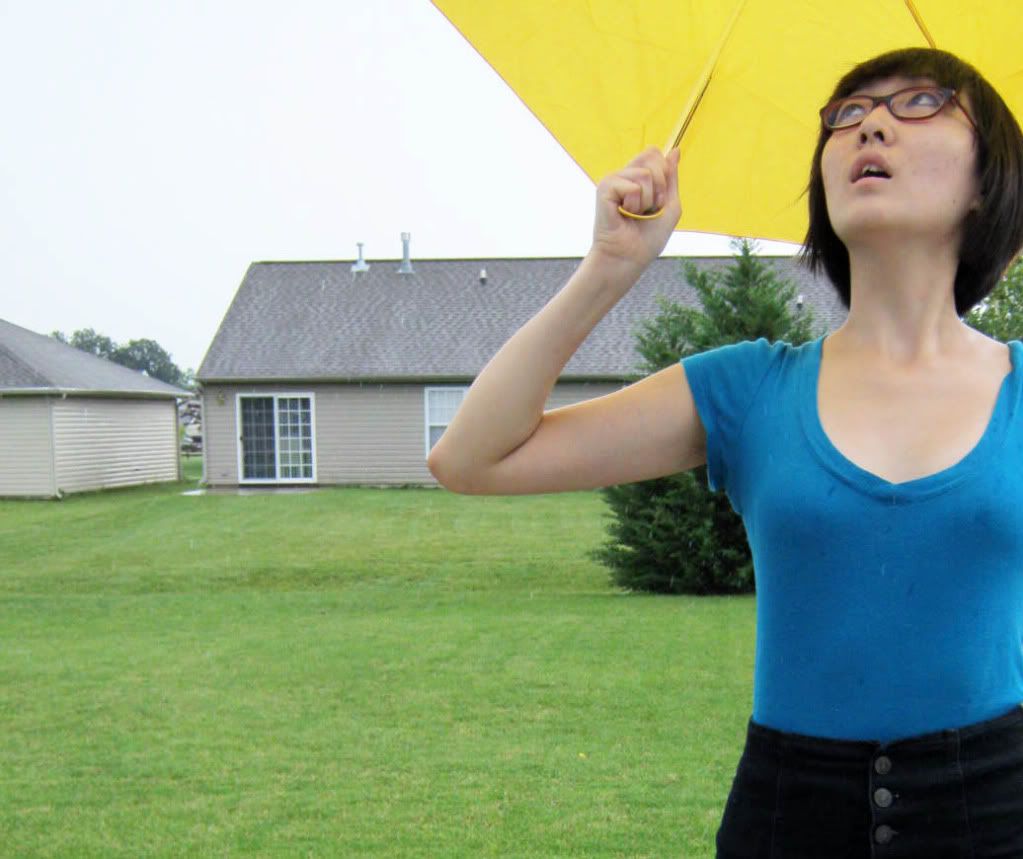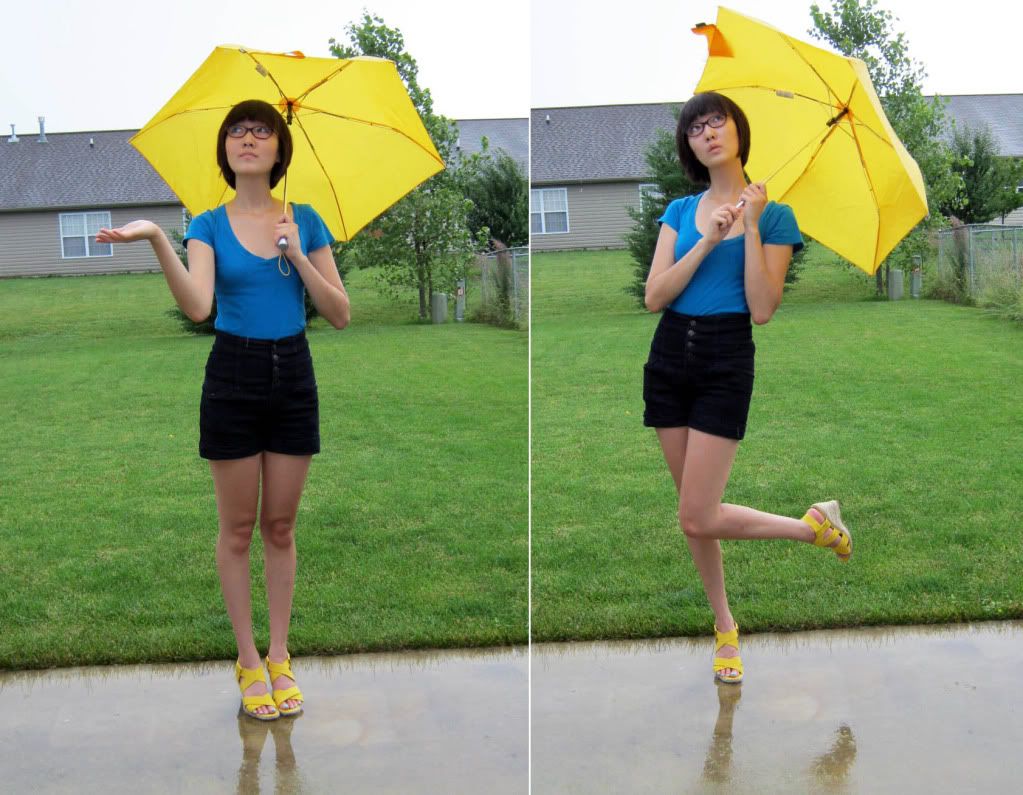 Not exactly singin' in the rain, but I have a feeling that standin' in the rain will be a new classic.

Tee

- Old Navy :

Shorts

- gift from Thailand :

Wedges

- Bandolino via TJMaxx
Thank you all who responded and gave me fashion advice for my job interview! I want to give you all a big hug and perhaps a puppy. I only seem to have beagles and greyhounds left, is that OK with y'all?
I decided to go with what
Elaine
suggested and wear a skirt instead of slacks. Not only was it humid outside, but I wanted to wear this skirt for slightly auspicious reasons. This is the same skirt that my mom wore back when she was a teacher in Korea, but I never knew just how to wear it. It's very good quality and I love the tulip design, but it hits at a length that I'm not used to. In hindsight, I was worrying too much about what I was wearing more than I should've... not to say that I thought my outfit was the most important part of the interview, but dressing well puts on a good impression, right? Well the manager must've also liked tulip skirts because I was hired for the job! Huzzah, champagne and puppies all around.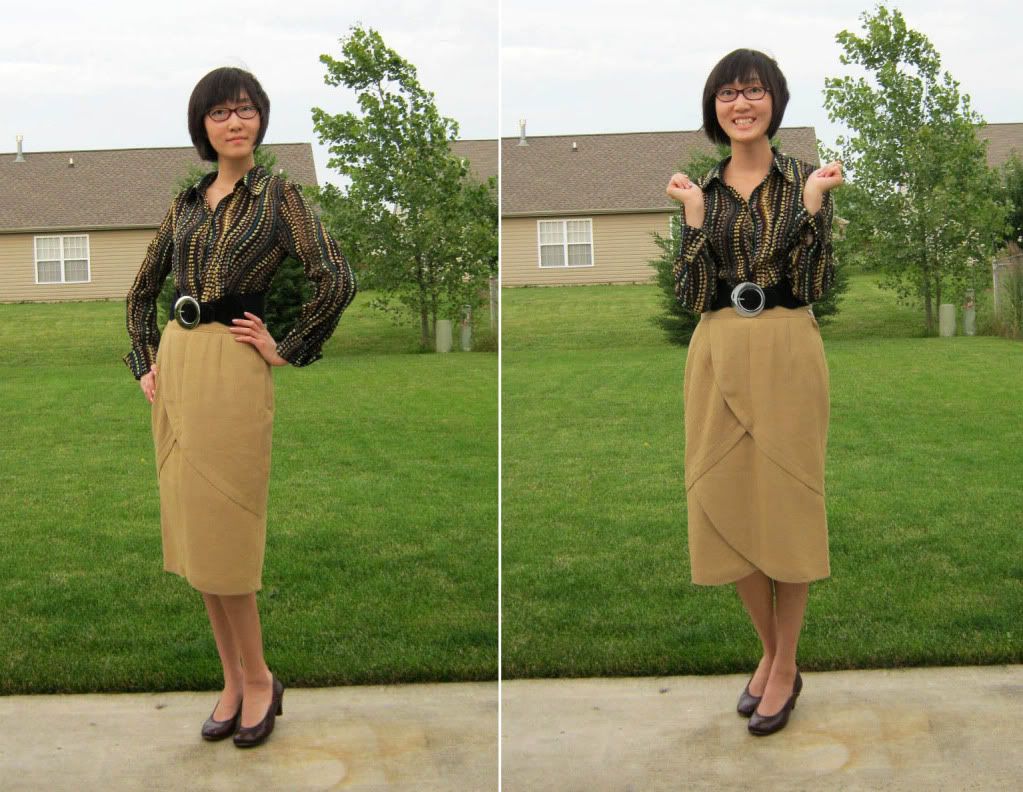 Blouse

- Violet & Claire via TJMaxx :

Skirt

- Mom's :

Belt

- Thailand :

Shoes

- Gentle Souls via TJMaxx
What's Lovely for Sunday, June 13, 2010
: Pretending to be on the Broadway stage by belting and howling classics like "
Don't Rain on My Parade
," "
Rose's Turn
" and "
Maybe This Time
." What can I say? I love musicals.
(Saturday's

What's Lovely

shall come later)
Though this isn't what you call show tune material, I've been playing this song on repeat-repeat-repeat over and over today.
I usually don't like the phrase "no one's ever gonna love you more than I will" because it sounds so selfish to me... but I still love this song.