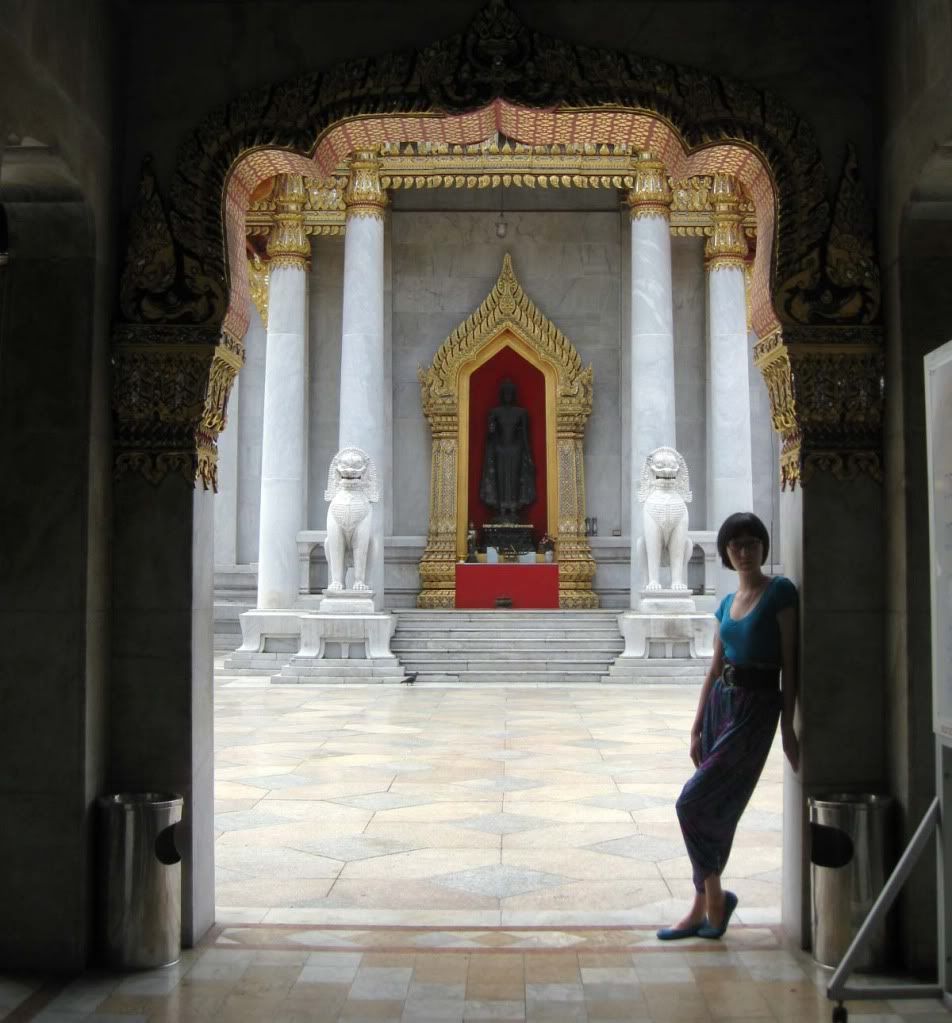 I think ever since I arrived in Thailand, most of my pictures have been these giant epics, because I don't really see it fit to crop too much out of sprawling palaces or soaring temples. I guess in a sense, I want you to experience the crane-your-neck effect that I got when I first saw these jaw-dropping architectures. These posts are basically travel journal entries as well as a way of showing my daily outfits. But is it too much? What do y'all say: less, more pictures? Or just right?

What's Lovely for May 24, 2010

: Seeing a postcard and realizing that you're going to the same places that are perfectly photographed in that tiny piece of paper.
Wat Benjama Bopit Dusit Wanaram Ratchaworawiharn... try saying
that
really quick five times (I just did, sounds like I'm affecting a terribly offensive and inaccurate Indian accent) ... also known by its nickname, Wat Benja, is the Marble Temple that looks more like it belongs in a painting, much less real life.
The obligatory hey-yeah-sure-take-a-pictre-of-me-sorta-smiling-because-I-don't-know-if-my-face-will-even-show-up-in-this-picture picture.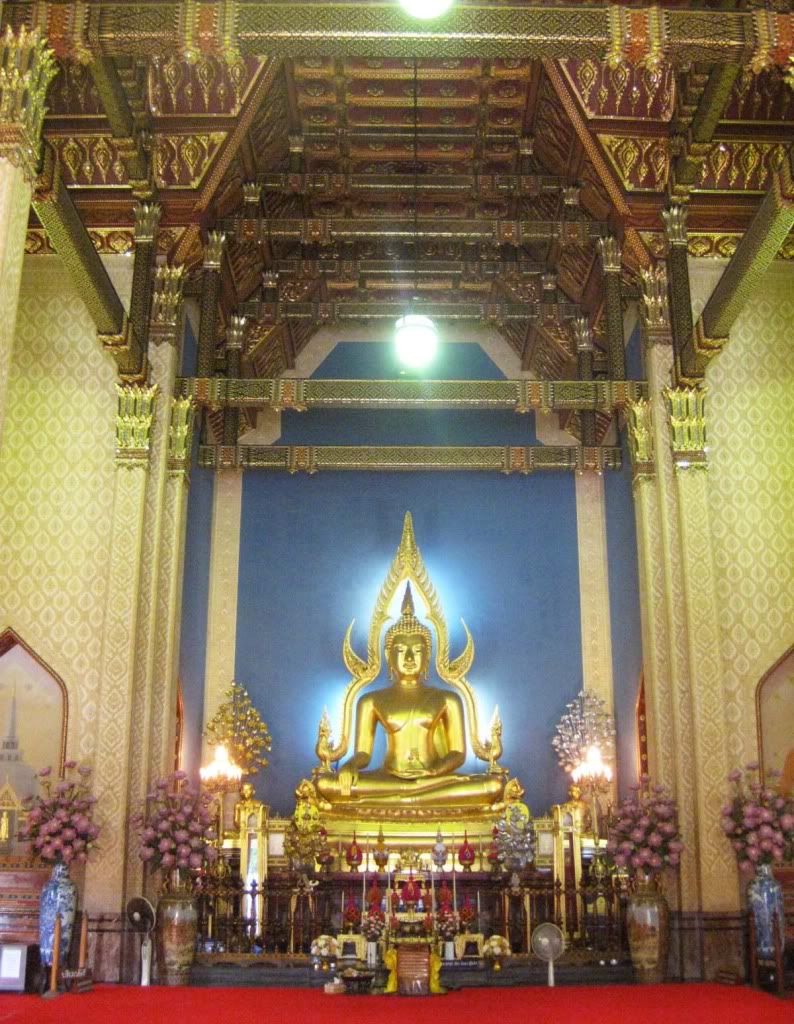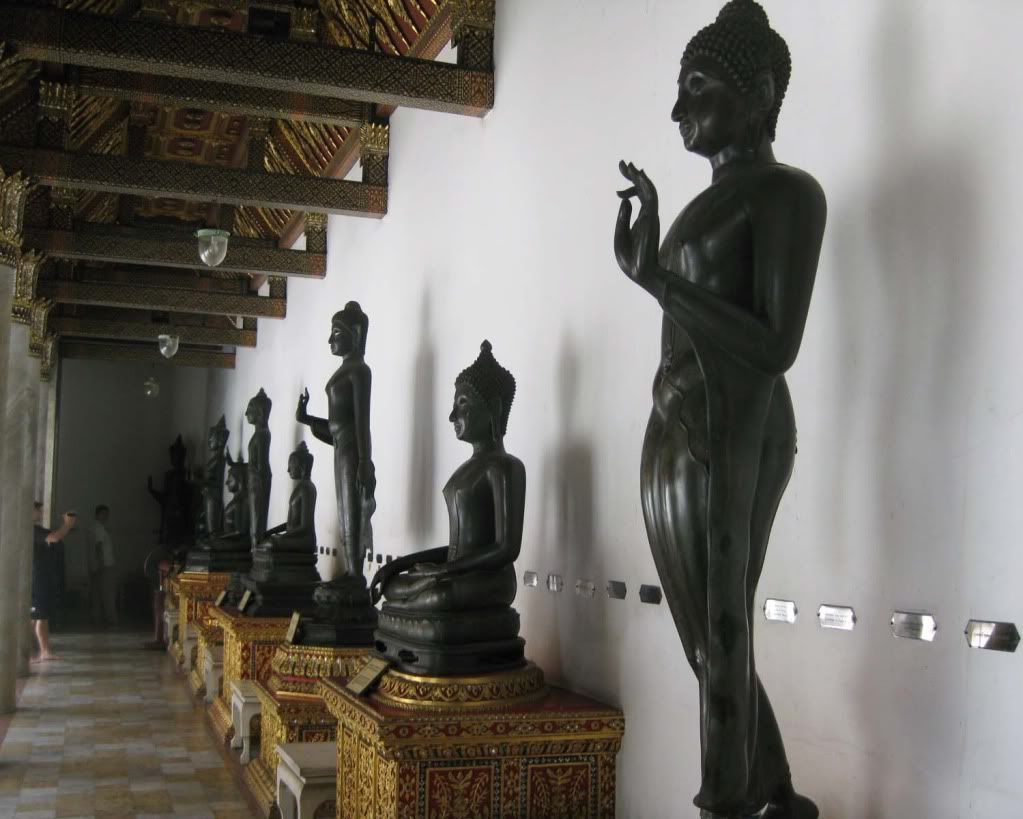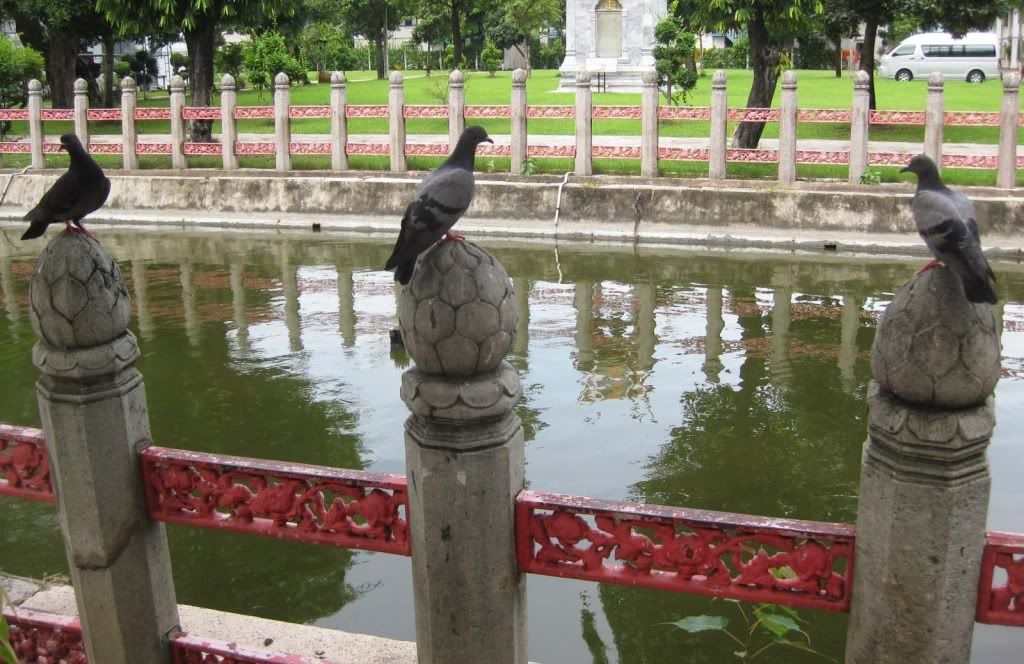 First there were three...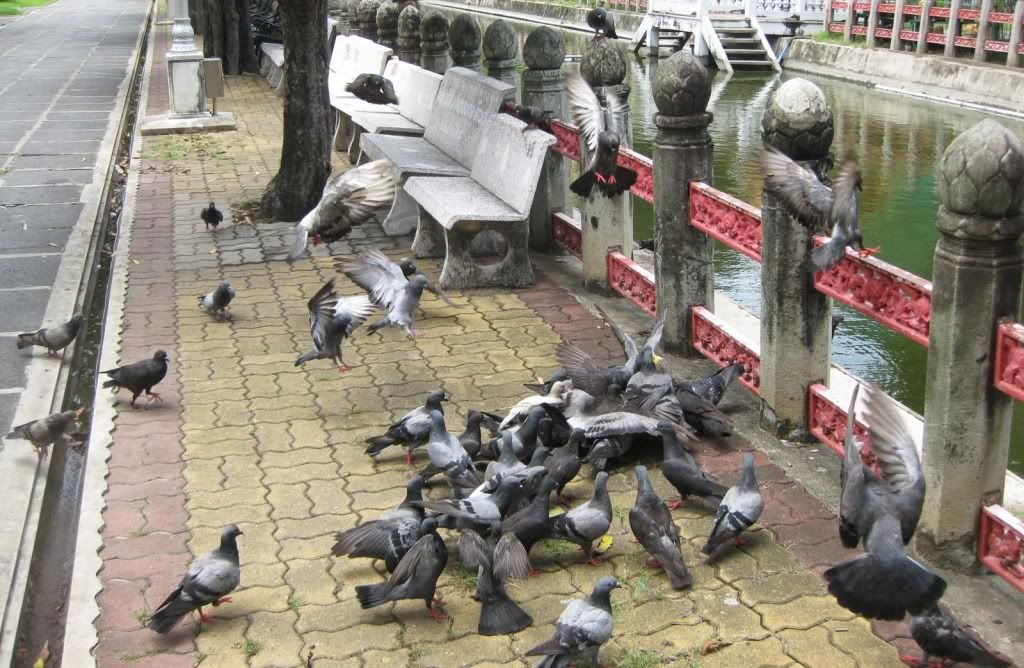 ... then we brought out the bread and then there were THOUSANDS FLYING IN ALL AT ONCE IT WAS LIKE AHHHH NOOOO BIRD FLU.
For lunch, we dined at the United Nations building situated in Bangkok. It was the coolest cafeteria-- like the most diverse high school ever. Not to sound like a cheesy equality advert, but it was a thrilling feeling knowing that there were so many different people from different backgrounds all eating under one roof.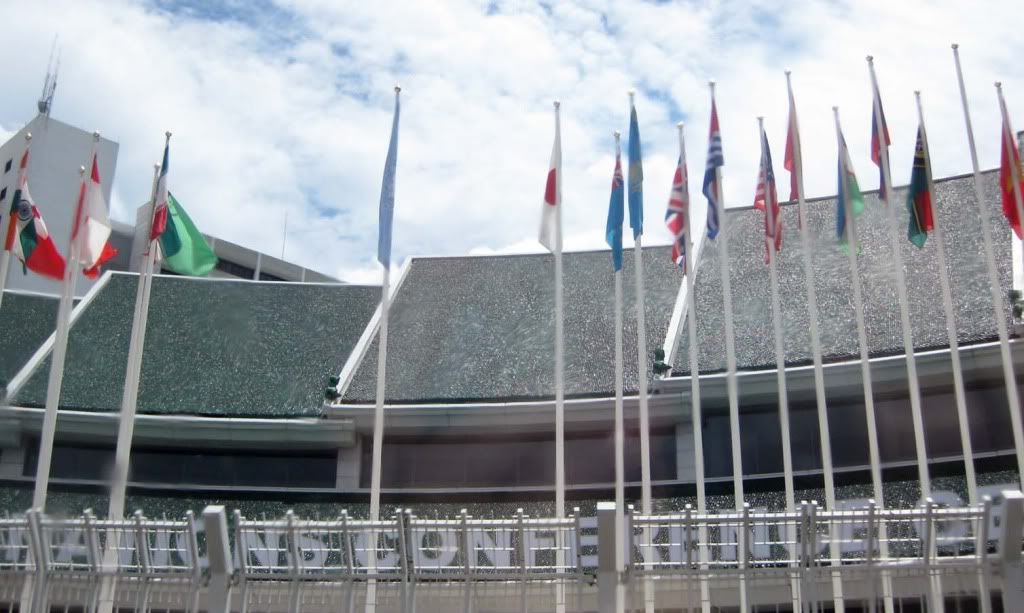 All that talk and I only have one decent-ish picture of the UN. WHATEVS, gosh.
At the end of the early morning, we arrived at--
are you with me, here?
--
Wat Phra Sri Rattana Satsadaram (aka Wat Phra Kaew), otherwise known as the Grand Palace where the royal family used to live. It was all a jolly good time until I realized that Mr. Sun was being particularly strong and was making me all lightheaded. Some might call it love, but I call it dehydration.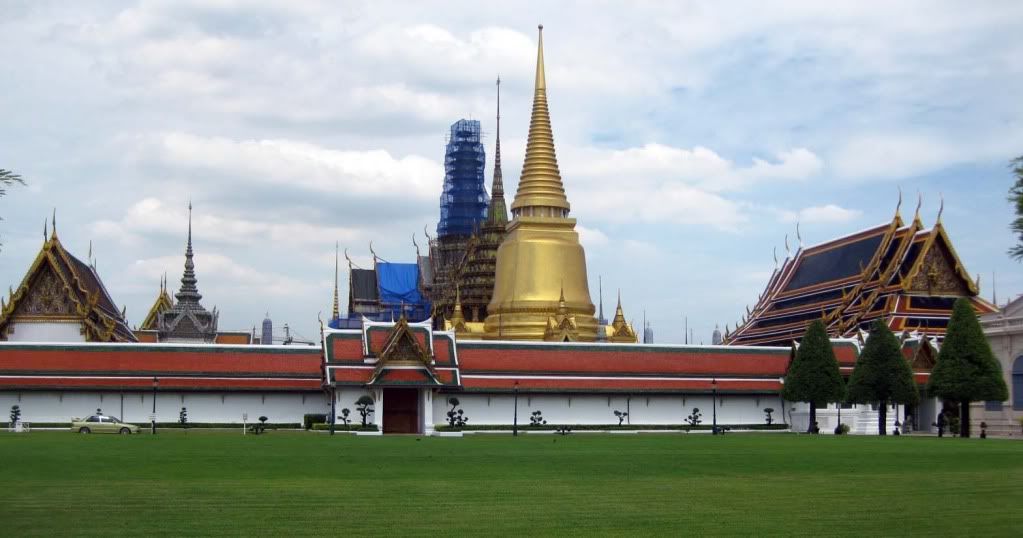 I don't have a close-up of the vast painting, but each individual god-like figure here had gold flecks as their armor. A-may-zeeng.
Yeah you know me, just chillaxin' at a major big Buddhist temple, you know how I roll.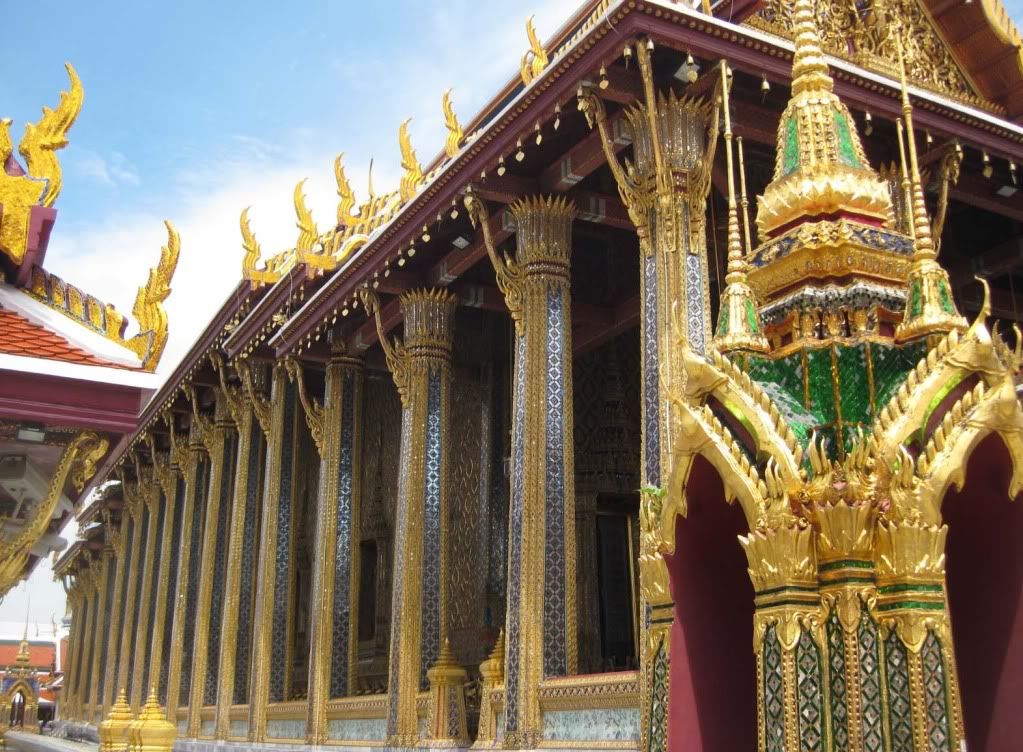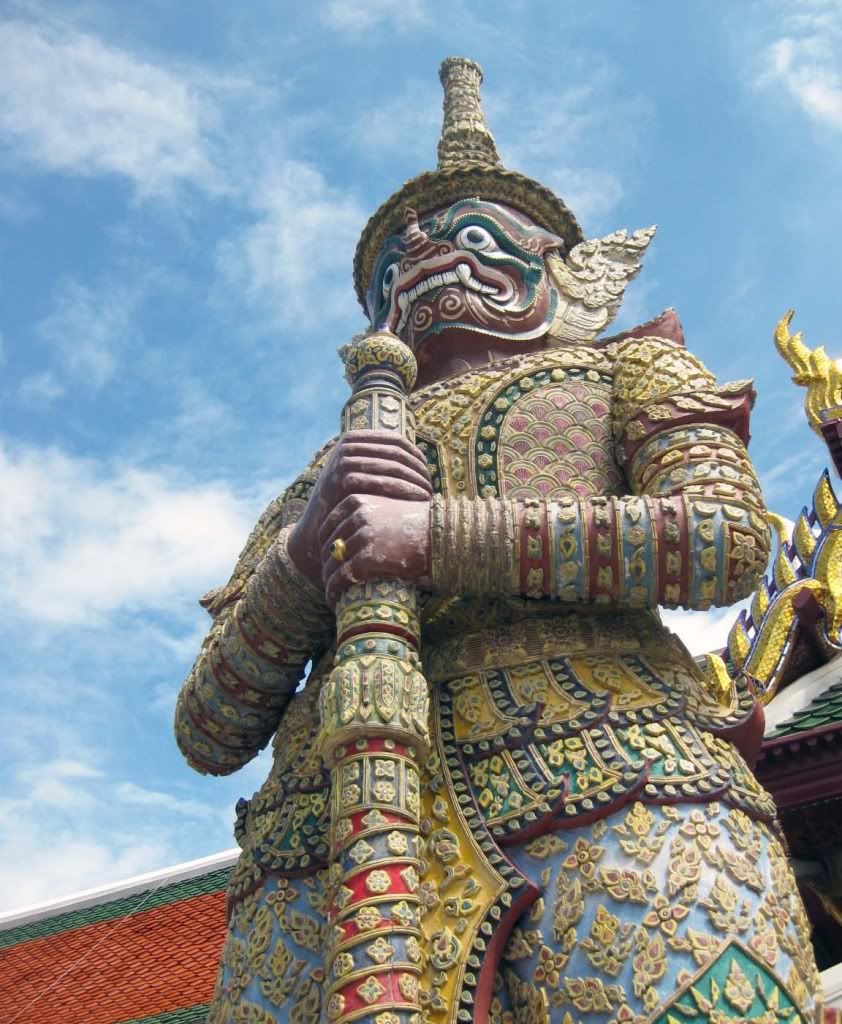 They might look frightening, but they're just stoned. *nudge nudge get it get it don't hate me*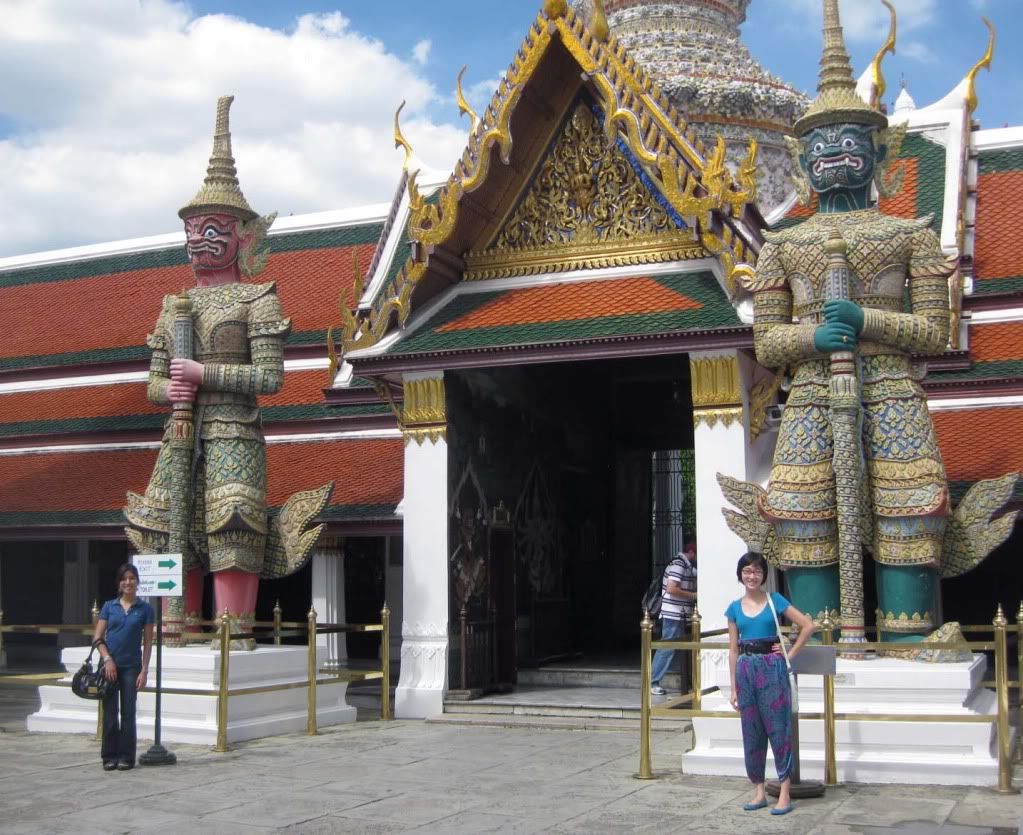 We can totally take these guys.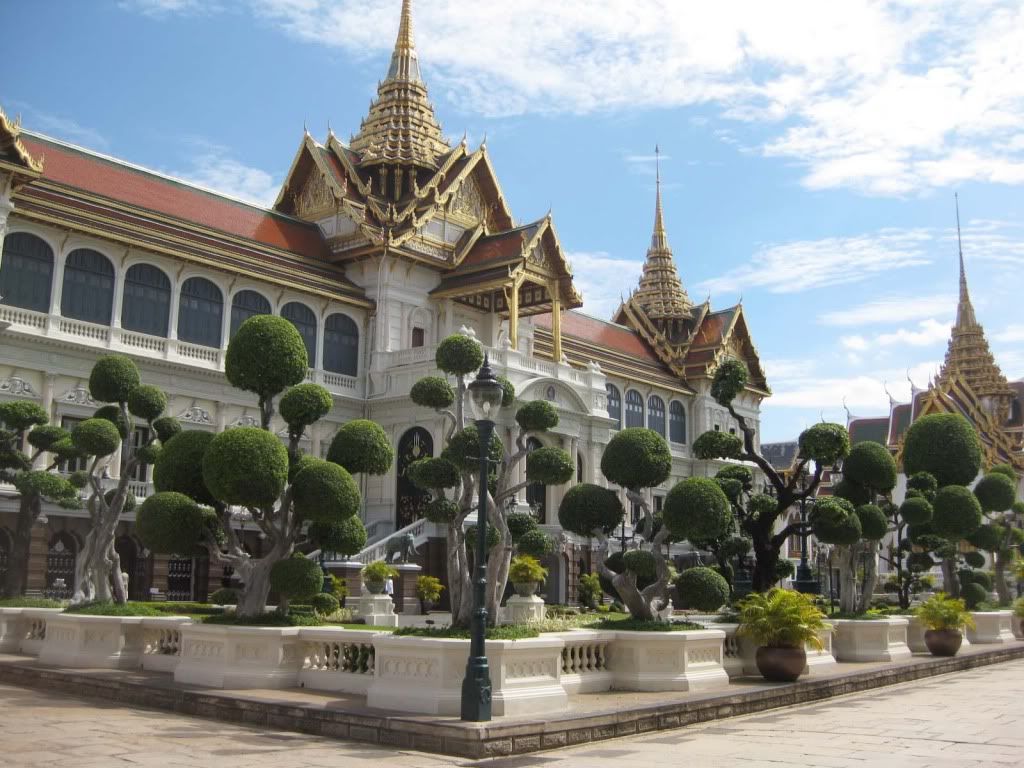 The Chakri Maha Prasat Hall, or apparently called "Westerner with a Thai hat" due to its weird architecture, looked stunning from outside. Can you imagine STAYING there as a guest?
This is probably the most covered I've dressed so far in Thailand. This makes me sound like some sort of hussy (or my favorite phrase for an improper woman, a
Jezebel
), some variation of a tank and shorts is norm for me to survive here. However, Pink informed me that there were strict dress codes at both the Marble Temple and Grand Palace, that exposed shoulders, anything above the knees, tight clothing, etc. weren't allowed. So the trick was to dress appropriately, yet not too restricting. I'd like to think I worked around that, thanks to my awesomepants (one word, mind you).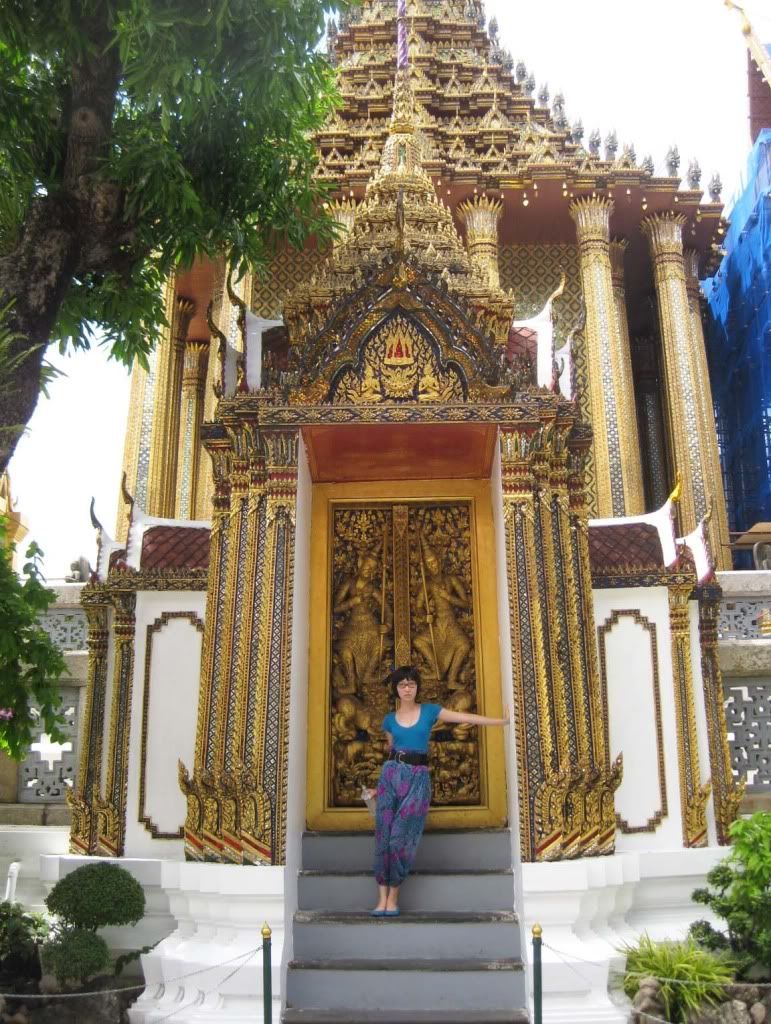 What I love about these photos is that I'm just a small player in the large stage of these grand buildings. Plus, blue and gold work off of each other!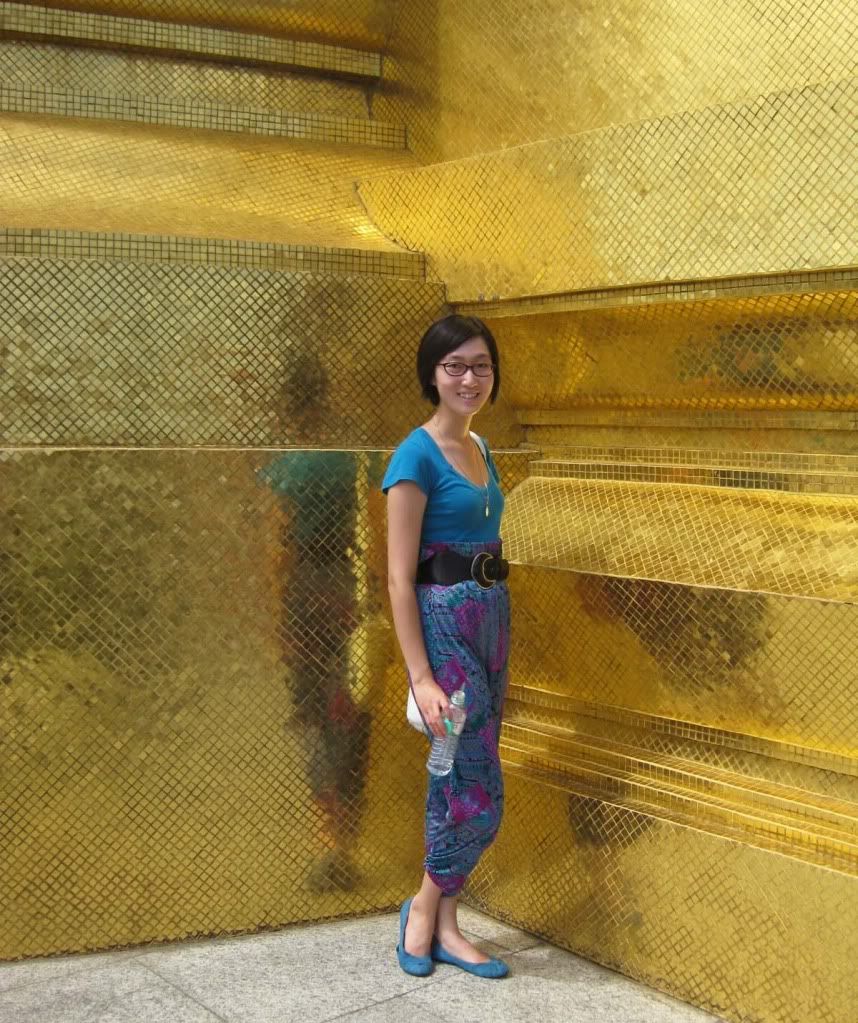 I FOUND GOLD, GOLD I TELLS YA. My water bottle was my favorite accessory; it kept me from passing out. Can a bracelet do that? I don't think so.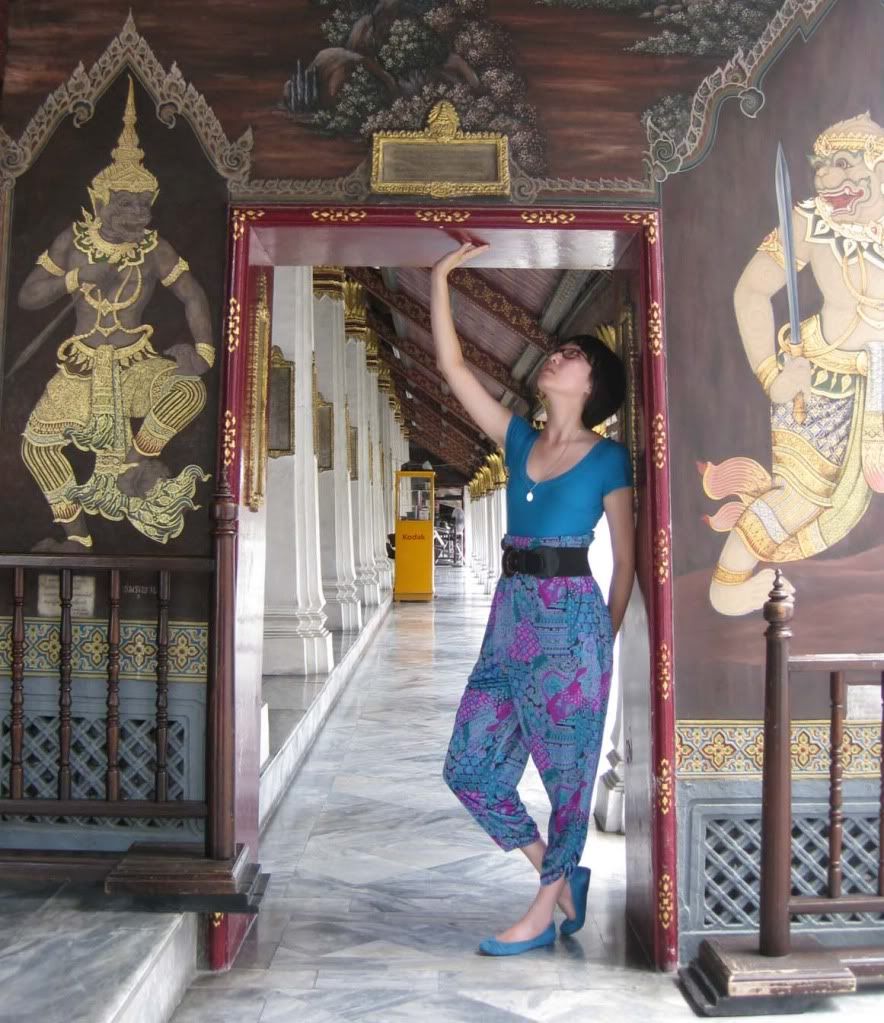 Not exactly feeling blue; if anything, I was red red burning hot in the literal sense of the word.
Shirt
- Old Navy :
Pants
- Mom's originally :
Belt
- stolen from Pink, may steal permanently :
Flats
- Charlotte Russe