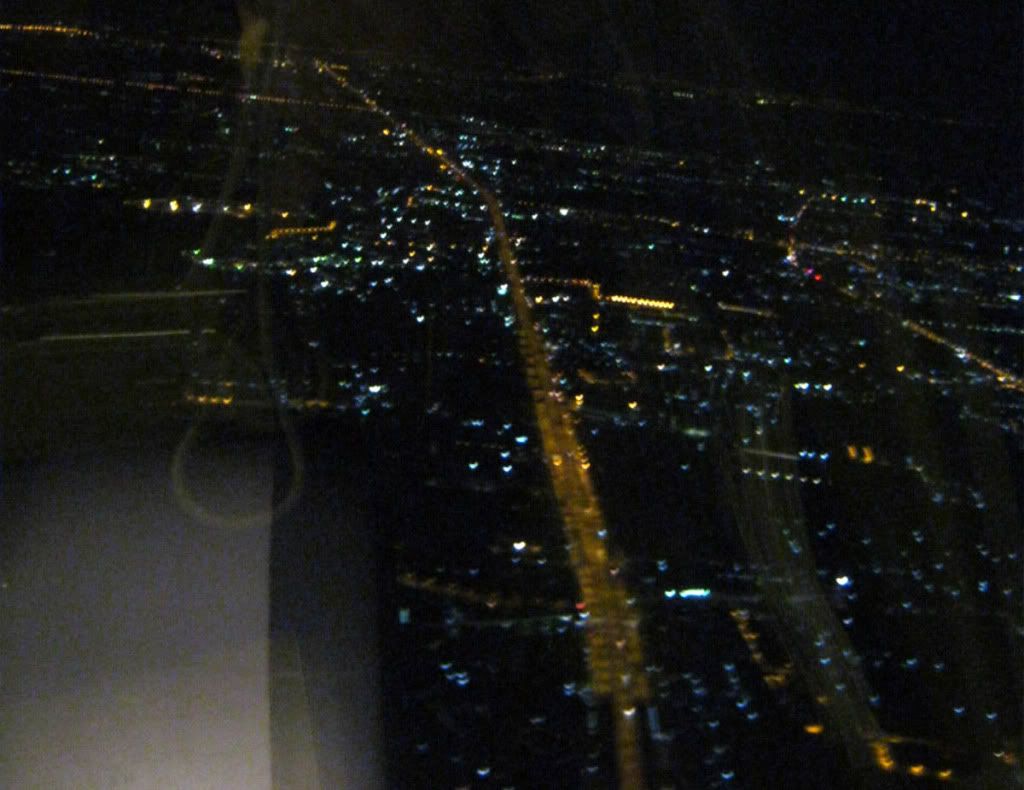 Those were the words I said under my breath (thankfully no one seemed to hear me... the window seat next to me was free) right when the plane was lifting off and flying away from the place I stayed for three weeks. It's silly, but I couldn't help but feel that I was missing
something
, that I wanted to experience so much more. Don't get me wrong: I had a kickass time that occasionally kicked me in the ass (more like digestive system, but ladies don't talk about that, amirite). Mostly, it was an eye-opening time. I had the unique experience of staying in the same city where certain political unrest brewed and blew over; the same city where recovery from said political turmoil was a record bat of an eye. I saw the high and low, the rich and poor and the modern and traditional aspects of Thailand, while having the best tour guides I could ask for (though Pink couldn't always answer my incessant questions). In the end, I was grateful for this trip that I never would've gone on had I not taken Pink seriously when she first asked, "Do you want to come to Thailand with me?" several months ago.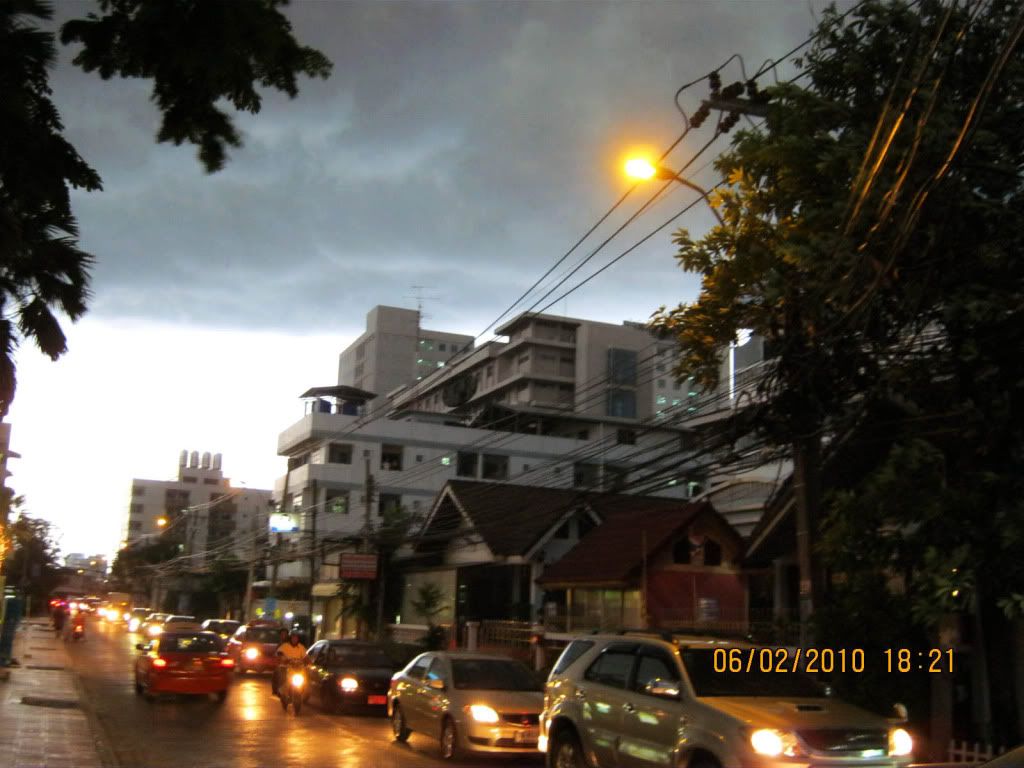 What's Lovely for Wednesday, June 2, 2010
: Though there's the thrill (but mostly fear) of having to travel by myself for the first time halfway across the world...
nothing beats a hug from a friend at the airport
.
I think this guy thought I was taking a picture of him or something, because he kept on whirling his head 'round when I was standing there trying to get the shot at the Bangkok airport. Geez, buddy.


While wiling away the hours at the Tokyo airport, I put my camera to good use. I actually really like the airport: it's super clean and well organized, and I loved how I could recognize the area (meaning I WASN'T LOST).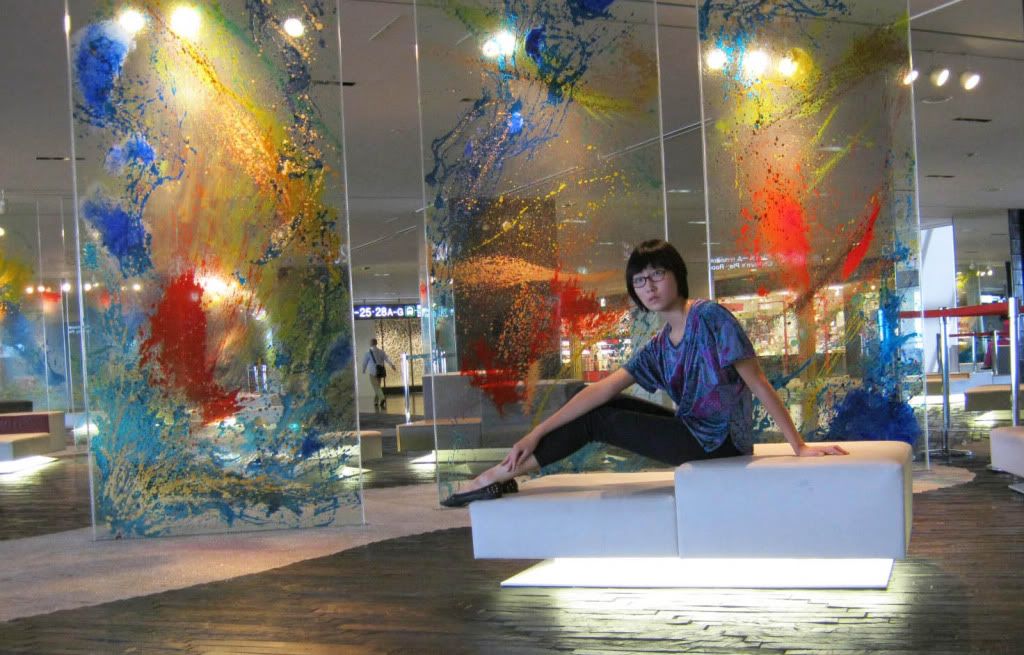 The airport has this pretty cool spot where you can rest and admire the amazing Pollock-esque decorations. Here, I'm surreptitiously entertaining myself with the self-timer.
I had the luck and misfortune to have the window seat on my flight from Tokyo to Chicago; at least it enabled me to see beautiful rainbows like this. The kind-looking Japanese man sitting next to me enjoyed the view, too.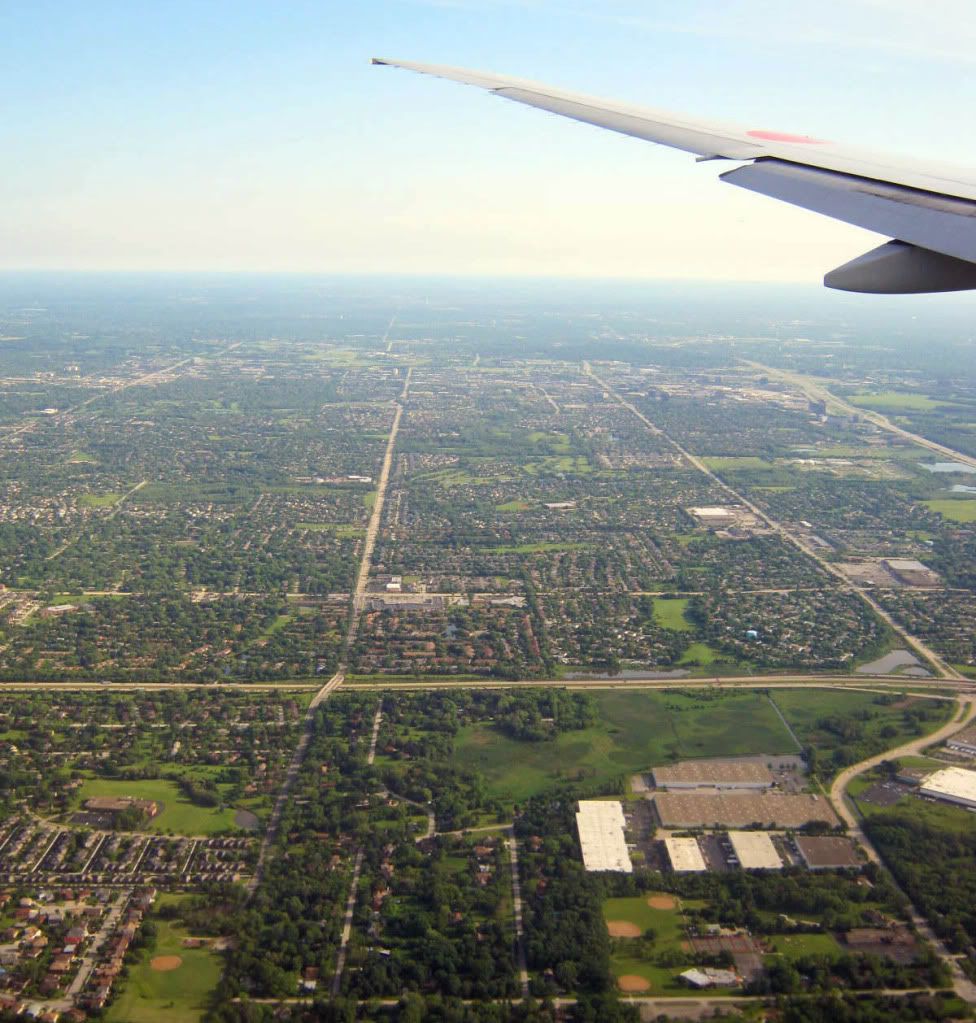 What's Lovely for Thursday, June 3, 2010
:
HOME
.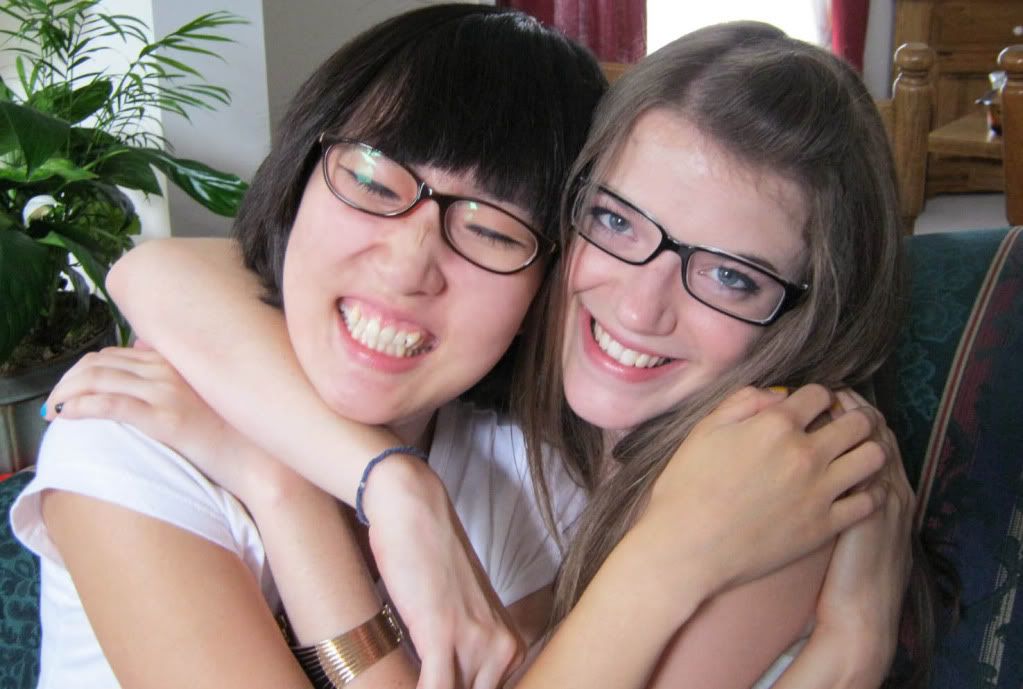 What's Lovely for Saturday, June 5, 2010
: Seeing (
and mostly hugging
) a slew of friends, buddies, compadres, amis, after you haven't seen them in so long.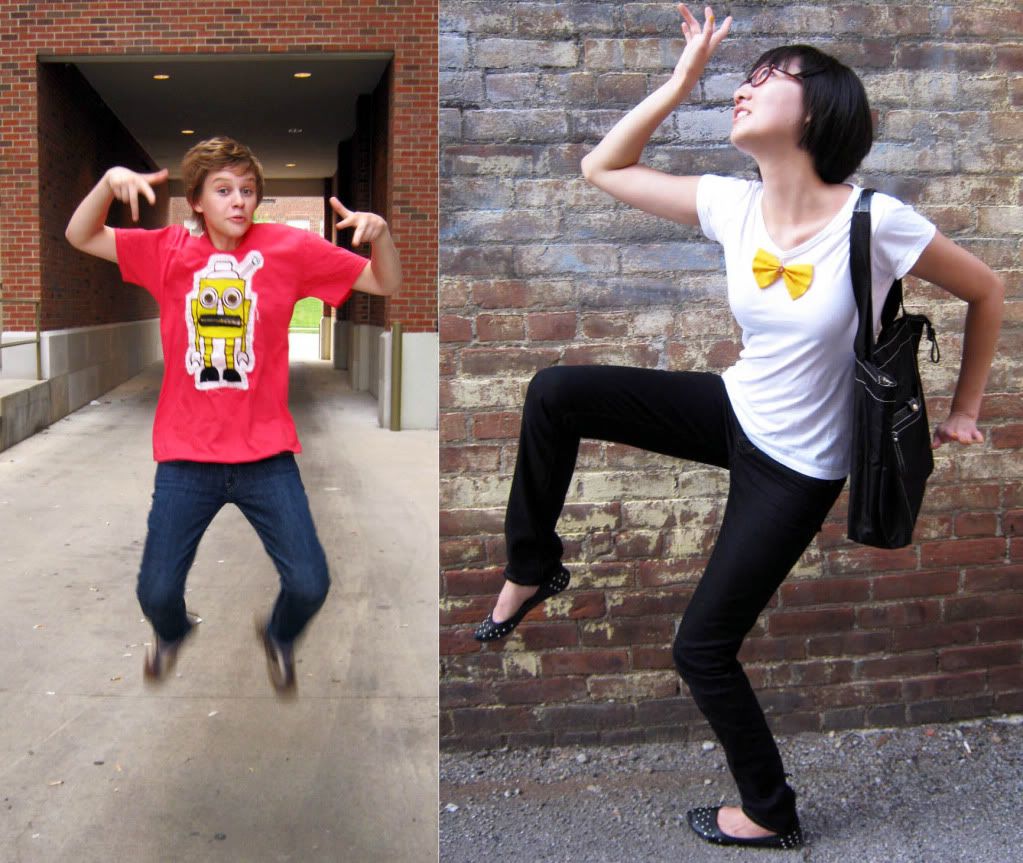 It's a wonder we're not professional interpretive dancers.
On Grimsay>> Wearing the

T-shirt

that I bought in Thailand
On me>>

V-neck

- Avenue @ BKK :

Bow tie

- K&J Classy Closet :

Skinnies

- Gap : Flats- Thailand

What's Lovely for Sunday, June 6, 2010
:
Finding a hidden DFTBA
in a copy of Will Grayson, Will Grayon at Barnes & Nobles. This so made me smile. If you have no idea what I'm talking about, I strongly suggest you go to the site the nice person wrote in that note.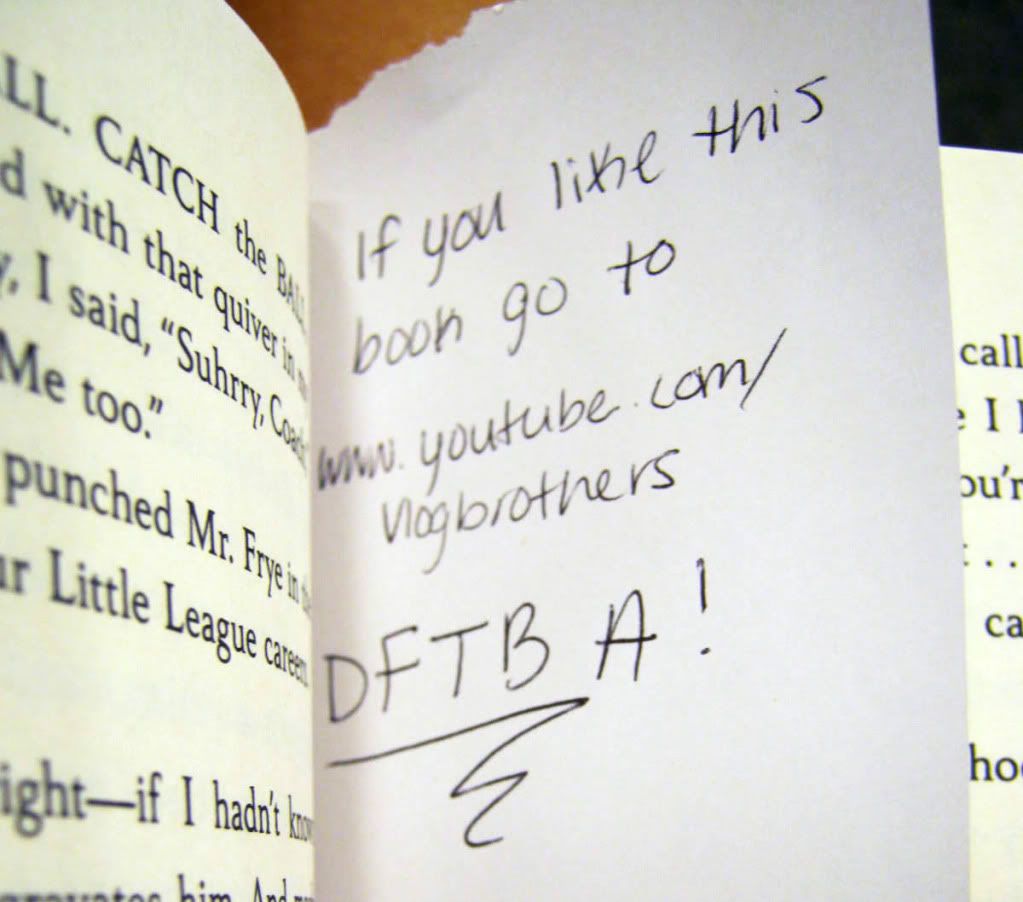 What's Lovely for Monday, June 7, 2010
:
Decorating my room with pages and pages from magazines
(pictures later), so now my room is dedicated to art and fashion. Wow, what a girl I am.
The last second made me go AHHHHHHHHHHHHHHHHHHHHHHHHHHHHHHHHH.


What's Lovely for June 8, 2010
: You knew this was coming....
ALEJANDRO
. Oi, I'm terrified and awed at the same time. Mostly terrified. In a good way. (I love how
Poppy
immediately thought of me when she was linked to this video, oh Lawdy)