What's Lovely for February 22, 2010

: Causing a virtual tornado to hit your closet in order to

re-discover inspiration

.
(yes that's a

Wicked

shirt-- probably the biggest splurge that I regret)
Speaking of Wicked (and this is where my pseudo-ADD kicks in):
Isn't the fashion of the Emerald City just spectacular? I especially am green in envy (yes, I just said that) for the hats.
I'm amazed and inspired by the appropriately extravagant costume design of this musical. Fun fact: I even dressed up as Elphaba (minus the broomstick) one Halloween during high school-- most fun costume
ever
. One drawback was that the green paint was a little hard to completely scrub off.
What I love about Elphaba's wardrobe is that it transforms into this gorgeously complicated dress in the second act, after her
jaw-dropping "eff YOU" song
at the end of the first act. It always gives me the shivers watching it performed onstage.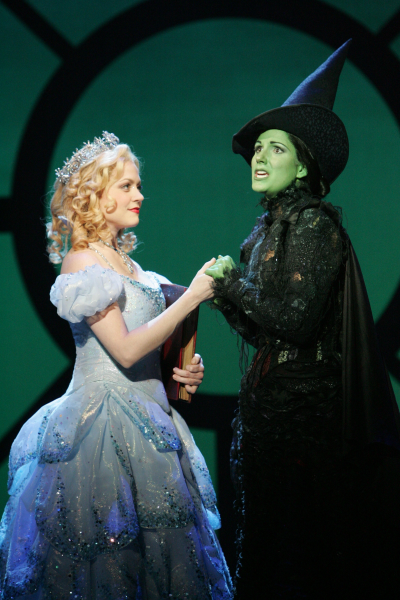 I wholeheartedly enjoy
singing along
to
most of the songs
(as I do with most musicals, actually), but I think "
For Good
" is a really touching duet that concludes the play so poignantly. Plus, I'm in love with the "good/evil" contrast of Glinda and Elphaba in this photo (though it isn't the
original dynamic duo
).
"Pfft, you're just jealous you don't have a magic broomstick too, Galinda."
"Chyeah, gimme a high-five and a pound, Chistery."
"I'd want your hat, but it'd only mess up my totally punk pigtails."
[All photos were taken via pseudo-scanner-aka-my-camera from The Grimmerie]
I know I've gushed enough about Wicked already, but I just have to add that I really love costume design sketches. There's something about that combination of art and fashion budding on a piece of paper that gets to me. Plus, you gotta love Madame Morrible's bustle.
Which ones are your favorite? Please tell me that I'm not the only musical fiend around here.